DATE:

AUTHOR:

Dutchie Product Team
Dutchie POS (formerly LeafLogix)
Dutchie POS updates for the week of December 5
DATE:
AUTHOR: Dutchie Product Team
Available now
Minimize the sidebar menu in the Backoffice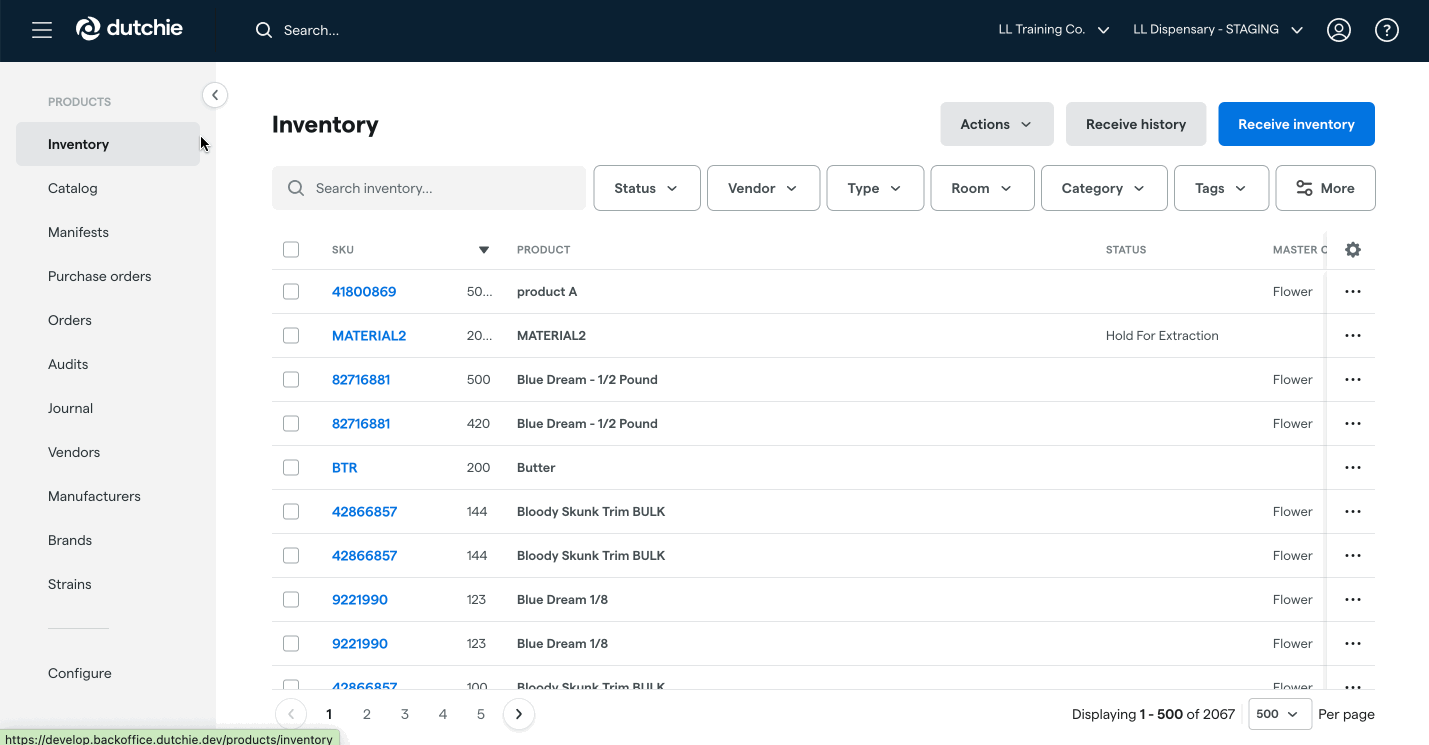 We've introduced a new feature that allows you to minimize the sidebar in the Backoffice and maximize screen space to increase your productivity. Click the arrow in your sidebar to minimize or pin. You can also hover over the sidebar to expand it momentarily.
Fixes
We've also released fixes for the following issues in Dutchie POS:
When retiring plants, the users couldn't change from units to weight.

Under Traceability > Receipt audit, the Posting Options that were available in LeafLogix were missing from the new Dutchie POS interface.

The Regulatory category field in the Catalog was showing as Required when a user had set it to either Show or Hide.

Users were unable to remove a dosage or size from a product in the Catalog.

Users were unable to see the full PMP file submission in Registers > Transactions.

Users were unable to search for reports by name on the Reports Overview page.

An error prevented users from submitting a transfer manifest using the Affiliated Transfer template.

An error message "Only permissioned users can view Vault details" appeared when a user tried to close out a non-vault register in the Backoffice.
Rolling out the week of December 5 (version 1.32)
Reporting and receiving enhancements
We're adding new columns and clarifying some existing column labels in the Product Low Count Report to better support your reordering processes.
We're adding more Inventory Snapshot data fields to the Explore section of BI tools, including Total Quantity, Count, Product Grams, SKU, Category, Batch Name, Source Batch, Package Expiration Date, and more.
Fixes
Version 1.32 will also include fixes for the following issues:
Under limited circumstances, customers could earn negative loyalty points from a sale.

Inconsistent timing of Metrc syncs.

Timeout errors when attempting a Metrc sync from the Integration audit page.

The Is Delivery column on exported Closing reports showing a blank value.

The Daily Sales Quantity by Category report failing to generate for some locations.

Integration audit emails not being delivered consistently.

In Lab results, the field label for p-isopropyltoluene is misspelled.

Dutchie Point of Sale API: We're updating the GET /products endpoint to eliminate an issue that could prevent quantity-based items from sending pricing tier data over the API.

BioTrack: The value auto-populated in the Package ID field when receiving inventory is missing the required license number.

Ontario: We're updating the AGCO Monthly Cannabis Retail Report to use the current template.