DATE:

AUTHOR:

Dutchie Product Team
Dutchie POS (formerly LeafLogix)
Dutchie POS 1.68: Unretire products in bulk; new Patient ID Scan report; enhanced Oregon tax reporting
DATE:
AUTHOR: Dutchie Product Team
Projected release dates: 9/11/23-9/15/23
Enhancements
Backoffice - Catalog
Unretire products in bulk: After selecting multiple retired products in the Catalog, you can use the Bulk actions menu to un-retire the selected products and set their status to Active. Previously, products could only be unretired one at a time.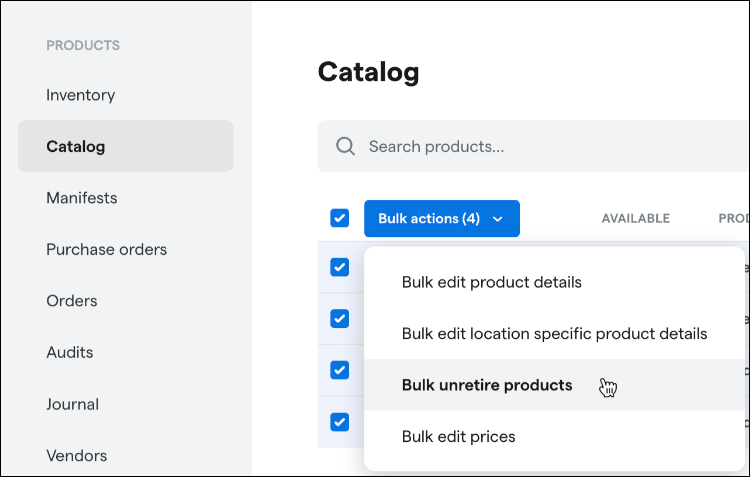 Backoffice - Reports
A new Patient ID Scan Report shows the logs for all patient IDs scanned at check-in. This report is designed to satisfy state requirements for Missouri operators but is available in all states. Find it in the Backoffice under Reports > State reporting.
Oregon Tax Report by Tax Category enhancements:
All tabs now include the total tax collected for each tax rate, giving you all the information you need for tax filing in one report.

A new tab shows data by Dutchie POS Product Category rather than Metrc tax category for those customers who have configured their Product Categories to match the tax reporting categories.

A fix ensures that Exempt Sales correctly accounts for Medical - Tax Exempt and Recreational - Tax Exempt customer types.
A new Louisiana Patient Tracking Report shows all checked-in users for pharmacist verification reporting requirements. Find it in the Backoffice under Reports > State reporting.
Fixes
Register - Cart
At locations that require users to scan products to add them to a cart, this scanning requirement is also enforced when starting a fulfillment cart, preventing users from adding products to the order. This fix accounts for the roaming budtender use case by allowing manual searching and adding products when starting a fulfillment cart while still requiring users to scan each item to assign a package.
Register - Guest list
When a fulfillment cart is created on the Dutchie Register web application and a user attempts to fulfill it on a Dutchie Register Terminal (Elo device), the user is prompted to start a new order instead of being directed to the cart to fulfill the existing order. This fix solves a guest list refresh issue on Elo devices to reflect the correct order status and fulfillment workflow.