DATE:

AUTHOR:

Dutchie Product Team
Dutchie POS (formerly LeafLogix)
Dutchie POS 1.67: Void sales without affecting your drawer; public API enhancement; fixes
DATE:
AUTHOR: Dutchie Product Team
Projected release dates: 9/5/23-9/8/23
Enhancements
Register - Cart
Void sales without affecting your cash drawer balance: When voiding a sale you will be able to select whether you're returning cash to the customer. Previously, the total amount of a voided sale was automatically deducted from your cash drawer, which meant voiding a non-cash or split-tender sale required the extra step of adjusting your drawer afterward.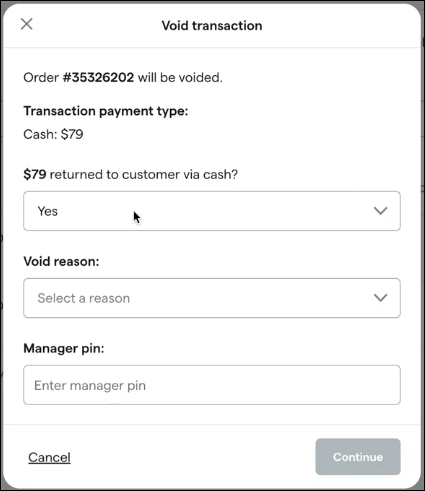 Dutchie POS Public API
We're adding the ability to retrieve transactions from /reporting/transactions by TransactionDate.
Fixes
Register - Cart
Users report that the Delivery Options window is only allowing departure and arrival times in 30-minute increments. This fix will allow you to enter any departure and arrival time.

We're investigating an issue that sometimes causes pre-order line items with a quantity of zero. These items do not appear in the cart but are included in the order total. While we work to identify the root cause, we're releasing a temporary fix to ensure these items do appear in the cart so users can manually correct the quantity.
Backoffice - Inventory
New Mexico: Inventory adjustment reasons will now be limited to state-specified valid adjustment types. Prior to this fix, adjustment types not used in New Mexico were also shown and the adjustment would fail if the user selected an invalid adjustment type.
Backoffice - Manufacturing
We're addressing a visual bug that causes recipe outputs to appear blank when viewing Recipe Batch History.
Missouri compliance update
Per guidance from the Missouri Division of Cannabis Regulation (DCR), there are new required Metrc Item Category fields effective September 1. To support you through this change, we've published a step-by-step breakdown on how to update your Dutchie POS catalog in preparation for the new requirements.