DATE:

AUTHOR:

Dutchie Product Team
Dutchie POS (formerly LeafLogix)
Dutchie POS 1.65: Apply specific tax rates to fees; weight override option for scale integration
DATE:
AUTHOR: Dutchie Product Team
Projected release dates: 8/21/23-8/25/23, unless otherwise noted.
Enhancements
Backoffice - Settings
Specific tax rates for fees: When configuring fees & donations, you will be able to select which tax rate(s) should apply to both manual and automatic fees. This feature is designed for California tax compliance purposes but will be available in all states.
Register - Scale integration
This feature was released on August 10.
Dual functionality for restrict to scale weighing and weight override: Previously, if you were using a scale integration with Restrict to scale weighing enabled, budtenders were unable to enter a Weight override, and bulk flower was always priced according to the actual scale weight. Now, you have the option to use these two features together and allow weight overrides within a set threshold, or continue to use scale weights only without an override option. Learn more in the Help Center.
Backoffice - General
Date field and date picker upgrades: We heard your feedback, and we're making it easier to remove date field entries throughout the Backoffice by adding a delete button to the field itself and adding a Clear option to all date pickers: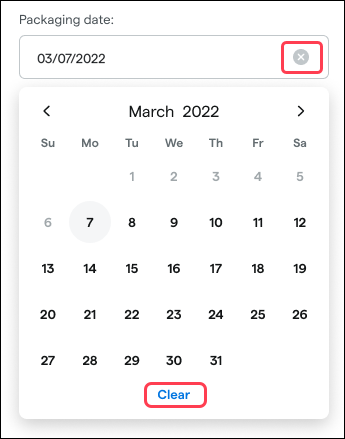 Backoffice - Register configuration
Pre-order and fulfillment features and settings will be made available to all locations. Currently, these settings and features must be enabled by Dutchie Support. Locations not already using fulfillment features will see no change other than a new Order workflow tab under Registers > Configure in the Backoffice. This change also resolves an issue that prevented some users from configuring a fulfillment ticket printer and printing those tickets.
Fixes
Register - Cart
Additional safeguards will prevent discounts from reducing an item's price below $0.00.
Traceability
We're deploying a fix to prevent a scenario where a canceled transaction may still post to BioTrack.

We're addressing an issue to ensure packages destroyed in Dutchie POS are properly reported to Metrc.
Label printing
Users reported that double-clicking when selecting a printer in the Print labels modal caused the wrong printer to be selected. This version includes a fix to ensure this doesn't happen.